ARTIST BIOGRAPHY
Michael Patrick Bailey was born in Indianapolis and raised in the Miami Valley just south of Dayton, OH. A self-taught painter, his experience as a lifelong sportsman and lover of the outdoors blazed the trail for him to become an award-winning wildlife artist.
Michael's work strives to be more than bucolic landscapes and serene animals. It comes from a place of longing connection — a string of lonely, contemplative moments, witnessed, captured, and yearning to be shared with a kindred spirit.
His wildlife and landscape works are featured in many private and public collections and have been shown in New York, Los Angeles, Sacramento, Cheyenne, Livingston, Honolulu, and beyond.
Additionally, Michael is a published illustrator — his works include the comics Uprooted, The Happy, and the Le Poux series, as well as the children's books Now We Are Seven and Stella Rose and the Sea Dragon.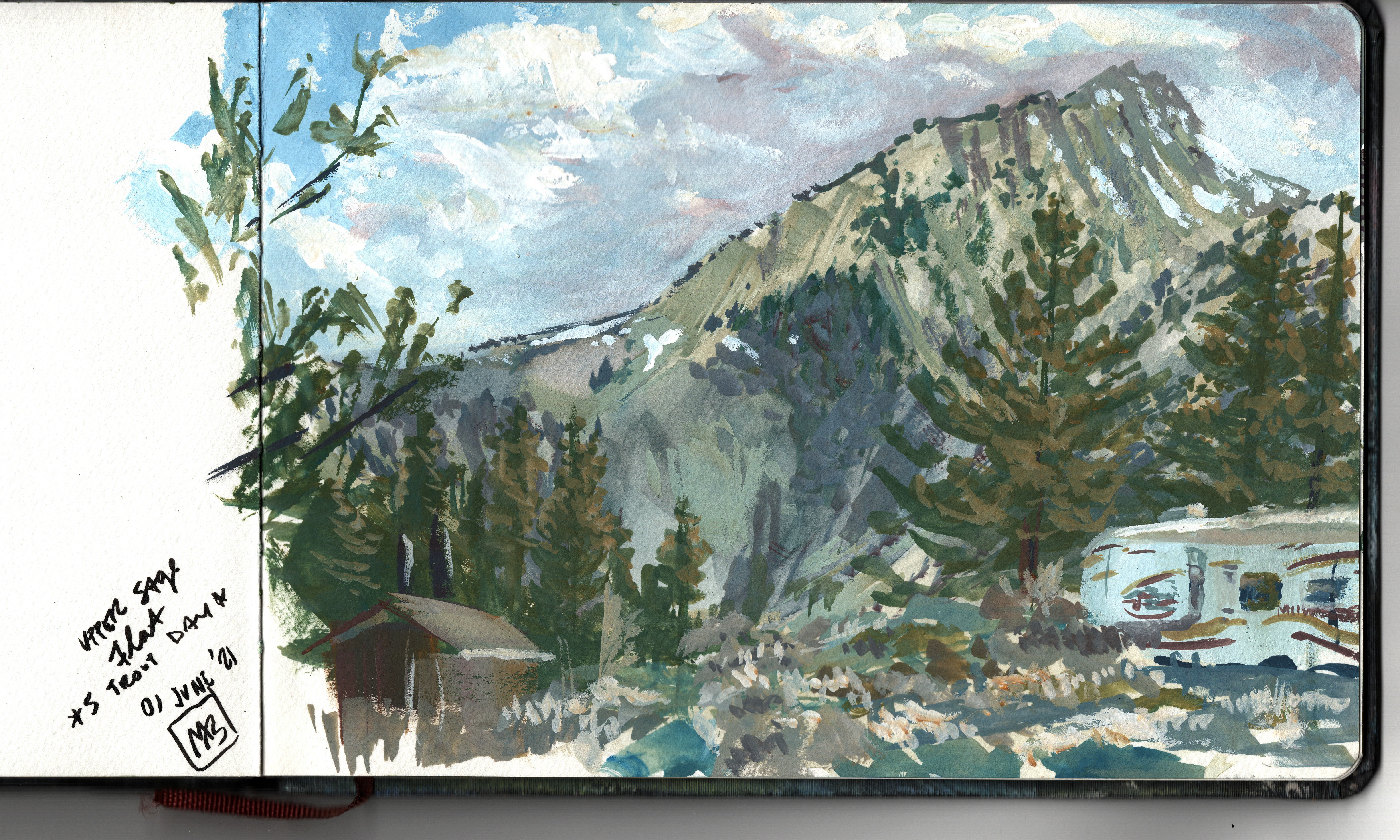 MY PRACTICE
My practice begins in the field — or, if I'm fly fishing that day, in the water.
As a wildlife artist living in a major city, any time spent in nature is invaluable. So whether I'm out for the day, or camping for a week or more, the assignment is the same — I document what interests me and bring a pile of sketches, photos, and experiences home to reflect and create fully realized oil or watercolor paintings in the studio.
Once I'm in the studio, my goal is to merge direct observation, imagination, research, and memory into an honest and earnest depiction of the world, and my point of view living in it.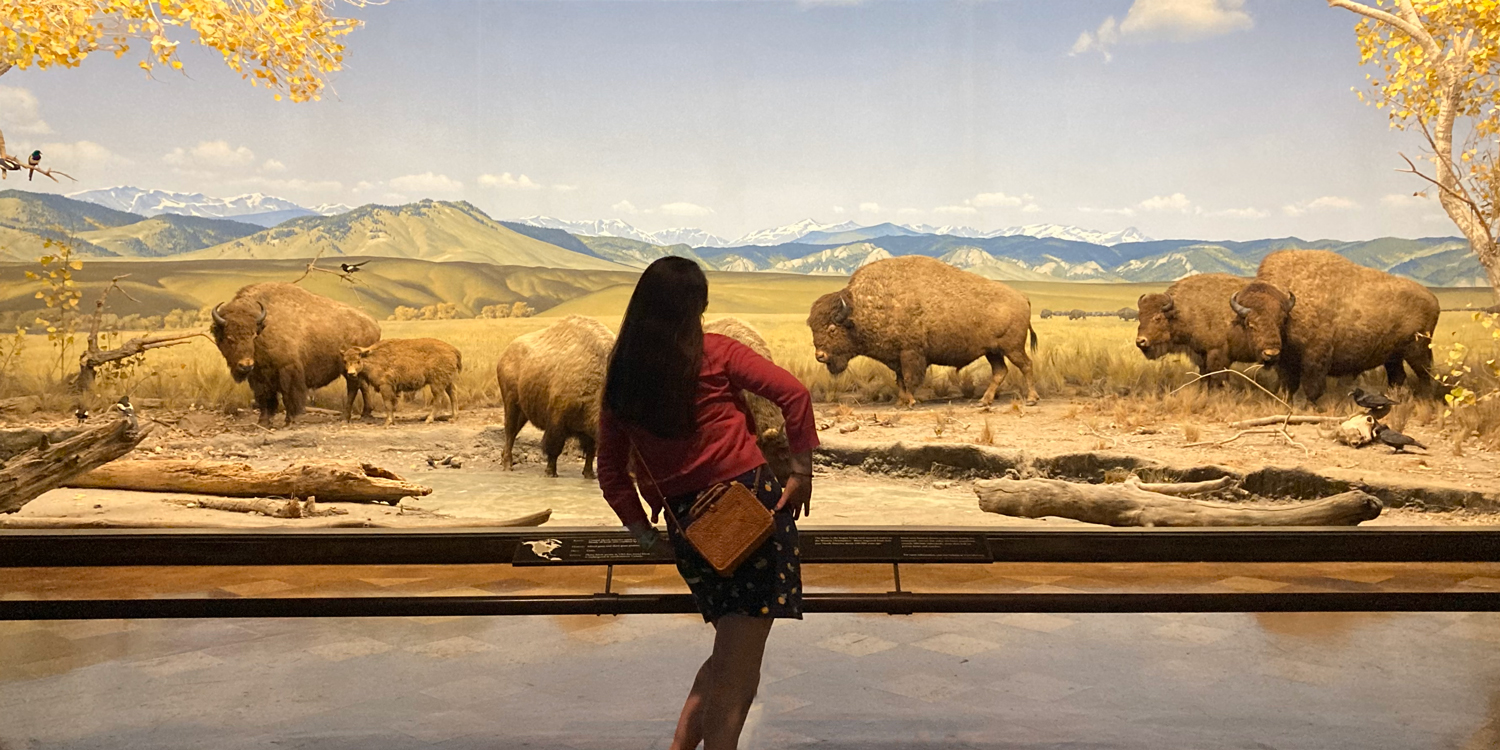 My dream girl and friends at NHM LAC
CITY SLICKER
Living in a major city has its advantages. There is all manner of wildlife thriving in urban environments, and there are also innumerable museums, botanical gardens, libraries, aquariums, and zoos — all of them world-class. The Natural History Museum of Los Angeles has over 121,000 bird specimens alone.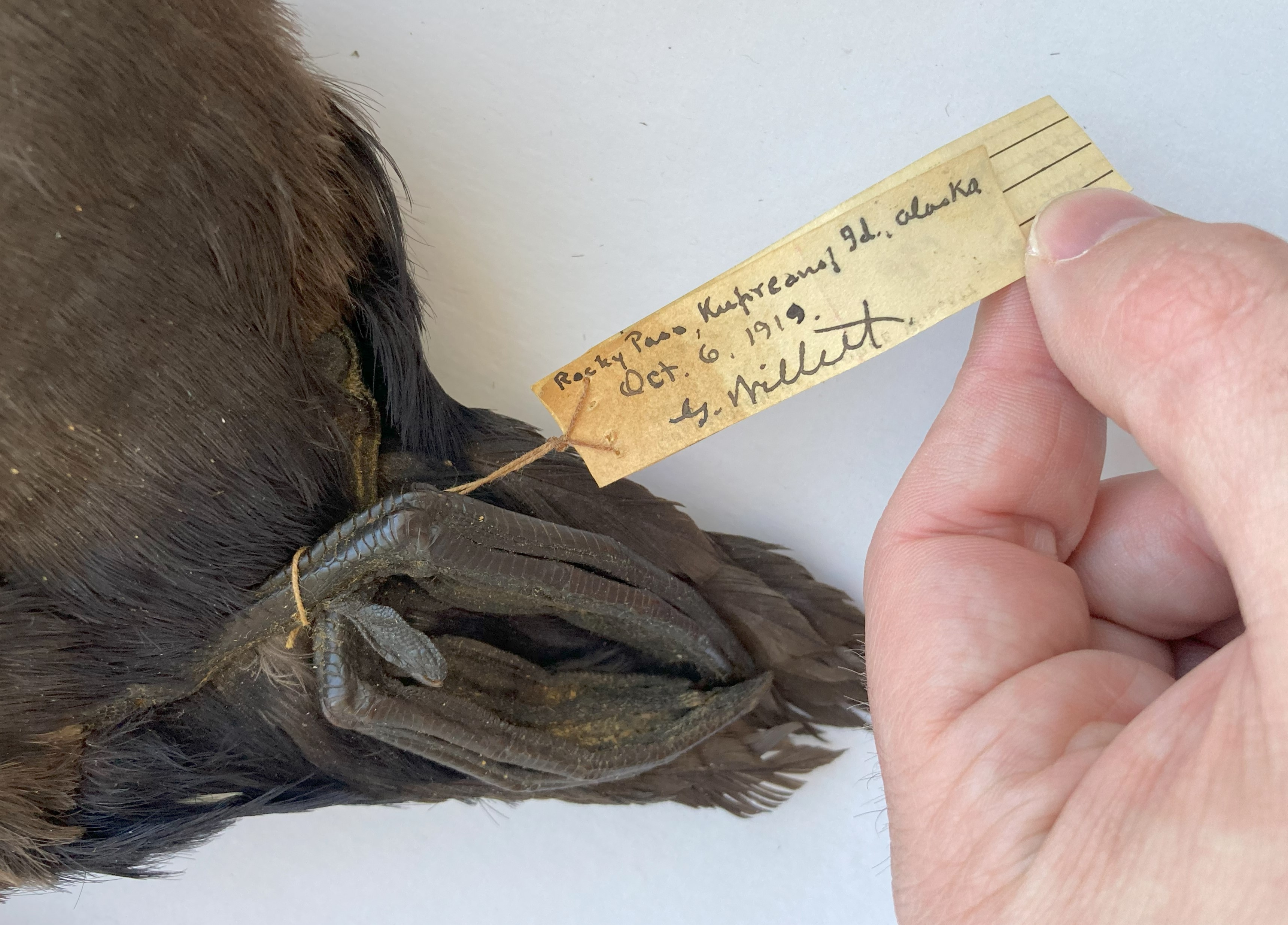 Harlequin duck collected in 1919
The great thing about the museum is that I can get a close up look at all sorts of critters I may never get a chance to see in person, and the scientists and researchers are a wealth of information, too. They bring knowledge of not only the specimens in the collection and the active research going on in the museum itself, but their own specialties and field research as well.
Best of all, taxidermy has no problem sitting still during a drawing session.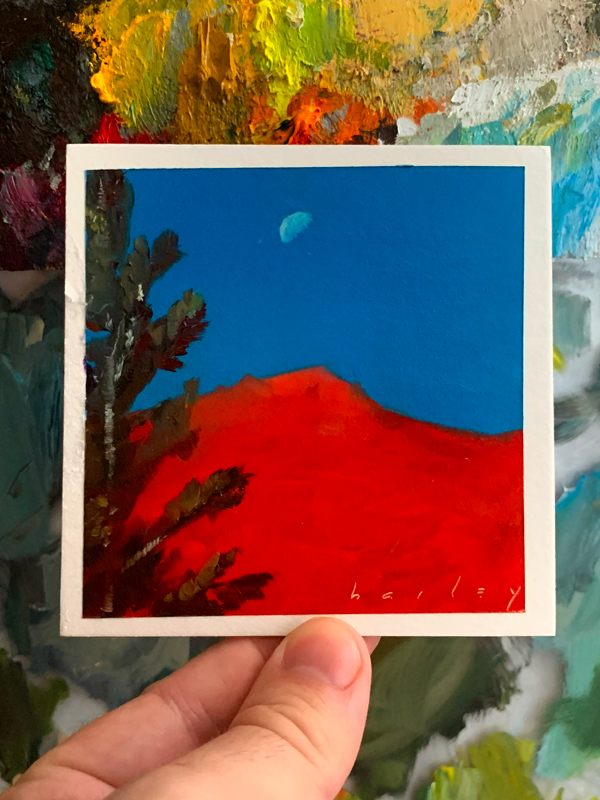 A WILD LIFE
I was ten months old when I went on my first camping trip. We road-tripped crosscountry to Grand Teton National Park. Growing up, most of my early memories are of campsites out west and around the Great Lakes.
I've pitched a tent in two feet of dust in Monument Valley, and four feet of snow in Ontario. Backpacked islands off the coast of Georgia, and slept on the shore of Lake Tahoe. As a former camp counselor, second generation Eagle Scout, lifelong angler, and outdoorsman, I mean it when I say I've literally spent years of my life outside.
If you hear the call of the wild, there's a good chance it's me on the other end of the phone.
ON THE FLY
Fly-fishing can take you to some of the most wild, unspoiled places on earth. The catch of a lifetime can be in the middle of a city park, or the creek behind the gravel pit. No matter where you are, the rhythm of the water and meditative act of casting and presenting a fly quiets the mind as the world melts away. Your whole experience narrows down to the end of that line.
Fly-fishing's a passion I share with my dad. A huge reason we love it is the rich history and storied tradition of artists and craftsmen at the heart of the sport. From tying flies and building rods by hand, to hundreds of years of sporting art and tall-tales of the ones that got away — be they fish, lovers, or sunglasses. We're honored to be part of the story. The fly-fishing community spans the globe and no matter the language, we all share the same thought when driving past a body of water — Was that a rise?
As a catch-and-release fly-fisherman, I approach a painting subject the same way I approach a fishing spot. It could be a rock pool deep in the woods, or a crowded farmer's market, it's the exact same. I sit and watch the scene, notice what's happening. What made me stop here? Are there landmarks to keep an eye on? What's the current doing and how might that impact my technique? How are the shadows going to change over the course of the day? Did I leave my bug spray in the car?
Before I wonder how long it took me to hike there from where I parked, I have a fly rod or paintbrush ready and I get to work. The world melts away. Most of this information is more than I'll need, but I find that if I pause, step into the unknown water and experience places intentionally with the people and things that inhabit it, it rings much more truthfully when it's time to make the painting.
In other words, I land a lot more fish.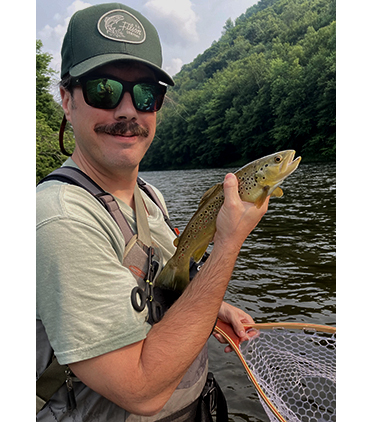 Off the dry, on the Beaverkill
FRENCH CONNECTION
I can't remember not wanting to be an artist — it's something I decided before I could make memories — but, I do remember my first major art revelation. It happened when I was seven years old at the Art Institute of Chicago.
I didn't put it all together until years later, but the memories are still fresh... I followed my parents into the Edgar Degas exhibit. For what seemed like hours, days, I stood transfixed by these soft images of ballerinas going about their business — The gentle bend of an arm. The gossamer frills around their waists. Faces like moons, hovering over a proud section of the orchestra pit. A knot of bodies in a dim corner, waiting to take the stage.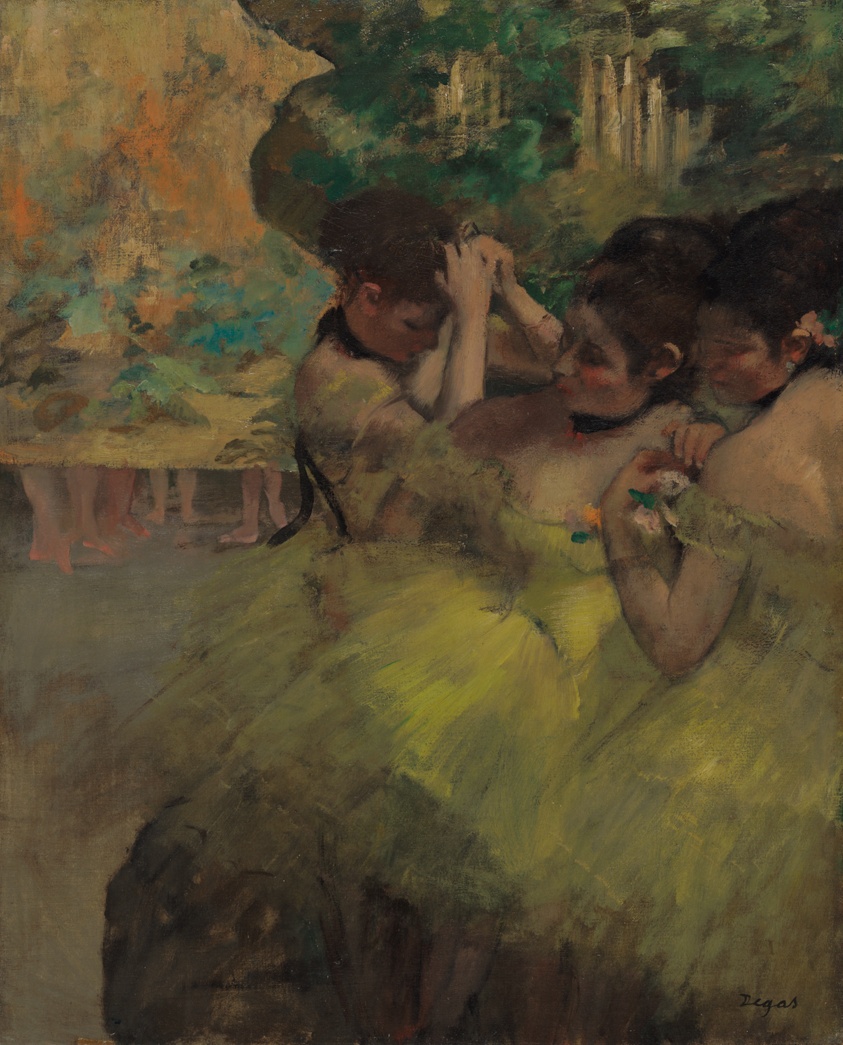 Eventually, I realized I was not standing in a Parisian opera house. These paintings were parked on a wall on Michigan Avenue, painted by some Frenchman however long ago. I had no interest in ballerinas, let alone nineteenth century ones. All I liked were westerns, and in my brain cowboys and ballerinas did not exist at the same time. And yet, here they were, and they moved me in a way I had never been before. I lost track of where I was in time, and completely forgot all the worries of my nervous little seven-year-old mind. I've been chasing that feeling since.
For my money, great art is like a shop window with a heavy glare — inside is a familiar scene, arranged in a way you've not quite seen before... and if you look closely, you can see something of yourself and your life reflected in its shadows. If I liked how this French guy saw his world, maybe somebody, someday, would like how I saw mine.
I've dedicated my life to making artifacts of my time on Earth. To tell my story and chase that sliver of connectivity we all share when we're shoulder to shoulder, pressing our noses against the shop window, looking for ourselves.
MOVING IMAGES
Movie references and classic films are a currency in my family. We can quote everything from The Quiet Man to Austin Powers, forwards and backwards. I was endlessly fascinated by how movies were made, how they use artists from every industry to make a single project. So, when it came time for college, I went to film school on a painting scholarship. How I managed that, I don't know. But, when I got positive feedback on my first short film, I didn't touch a paintbrush for almost ten years.
I worked sets, edited corporate industrials, shot documentary work for news outlets, festivals, bands, directed music videos and commercials. In between, I would hang art in galleries and long to feel like myself again. It can be grueling, particularly if you have a voice and want to tell your own stories. There's never enough time, enough money, enough support.
But one day, a buddy heard a rumor I could draw and offered me a spot in a bar's backroom art show. My piece sold before the show opened and the rest is history.
CHASING SUNLIGHT
I keep a toe or two in Tinsel Town and occassionally take script meetings and do some art or design work for productions. I'm more choosey these days, but I think about it often.
There's a term from the film world I love — chasing sunlight. It's when the sun is low in the sky and you have to scramble to get the shots you need before the light disappears. The sense of urgency is thrilling. The key is not to panic. You have to be decisive and disciplined, know your stuff, know your gear, but relaxed and confident enough to allow surprises and hope to catch lightning in a bottle. When it's over, there's a surge of relief and satisfaction as everybody walks away, proud they tried their best and put it all on the line.
Since becoming a full time painter, I feel like all I do is chase sunlight.